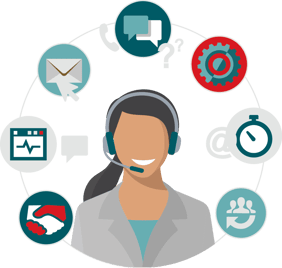 Reason #1 – Maintain a Positive Patient Experience
Providing high quality patient care is the first priority of a specialty practice. However, this focus can become muddled when the emphasis on cutting-costs and staying in the black takes a front seat. Fortunately, with careful consideration, the patient experience does not have to suffer.
In fact, shifting the burden of RCM to a third party can often allow the practice to focus on what they do best—providing services that have value to the patient, rather than executing administrative functions. This could translate into increased patient face-time, fewer distractions for the provider, and the freedom to see more patients and generate additional revenue.
Reason #2 – Reduction in Overhead Costs
In-house billing also requires a significant investment in hardware and software, the added hassle of maintaining a server and upgrades, and an additional layer of compliance. When combined with the costs of training staff, any necessary certifications and the potentially damaging consequences of technical issues or outages, opting to outsource becomes an easy choice for many providers.
What's more, many vendors are paid a percentage of collections, so this is an especially worthwhile investment during a period when revenue is decreasing at the practice.
Reason #3 – Value-added Strategic Partner with Subject Matter Expertise
"Outsourcing RCM service can be very beneficial because it shifts some liability to a third party that most likely has far broader knowledge in regulatory, compliance, coding and administrative areas than most small and mid-sized practices. Some may even have resources available to assist with MACRA, PQRS or HIPAA, so you don't have to hire an expert," says Teresa Stewart, Practice Administrator for OrthoSurgeons and MedEvolve's Strategic Advisor.
Still, some practices are reluctant to entrust their revenue to a third party, a decision that experts argue should be a top priority, due to the additional business intelligence that a strategic partner will be able to provide.
Reason #4 – Enhanced Business Intelligence
David Myrice, a member of the Radiology Business Management Association wrote of outsourced RCM in a recent whitepaper, saying "Many groups hesitate to outsource such a critical component of their operation because of a perceived lack of control over the people, processes and data involved. However, outsourcing with the right organization—one that has access to enhanced business intelligence technology—does the opposite. It provides practices and in-house administrators with the control they want as well as advantages made possible by next-generation billing tools for data analysis and benchmarking. This does not mean that the outsourced billing provider will make decisions for the group. Instead, it will get them the data they need to make their own decisions, and often with beneficial, value-added advice."
Reason #5 – Customized Solution to Fit with Your Existing Processes
One of our main differentiators at MedEvolve is our unique advisory approach to managing our clients' revenue, and our deep hands-on industry expertise. Partnering with us to assist with tasks such as patient collections, billing and preventing denied claims gives you and your staff the freedom to concentrate on your patients rather than worrying about financial issues. We can manage all of your revenue cycle or just specific areas, and we also offer project-based services. Contact us and let us show you how we can help you cut costs and increase collections.
This content can also be found in our recent guide: