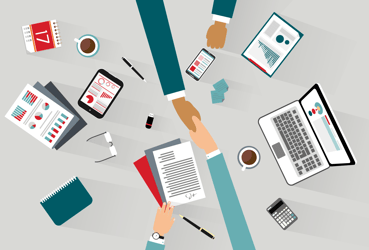 Negotiating insurance contracts is one of the least enjoyable aspects of any specialty practice. However, it's a necessary burden to maintain revenue, and the effort will be beneficial as you may achieve an increase in reimbursements of between 3 and 10 percent, according to Medical Economics. If anything, negotiation forces businesses to review their existing contracts so they know all the terms and conditions. Here's a run down of the negotiation process:
Do your homework
Assess your local market and see where you come up against other practices. What specialties, services or procedures do you offer, and how much competition do you face? Dr. Dean Gesme, an oncologist in Minnesota, recommended conducting a SWOT analysis, assessing your strengths, weaknesses, opportunities and threats to give you greater leverage during negotiations.
Next, see how well your payers contribute to your practices financially. Calculate how much revenue your practice received over the past year and divide this sum by the total number of patient visits. Repeat this procedure for each individual insurance company, then compare the results to each other and the overall average. This indicates which insurers are your most problematic payers.
In addition, Physicians Practice recommended tracking your most frequently used CPT codes and their rates. Doing so points out frequently used yet low-paying procedures you can negotiate a higher rate for. You should also check your contract to see if there are any high-paying procedures your practice does not perform.
If this all sounds like a nightmare, don't worry, you have resources available to help you along the way. Look for an analytics solution, like MedEvolve Practice Analytics, that can do some of the number crunching for you. The reports generated from your analytics software will be valuable supporting evidence when you go to speak with the payer representative.
Additionally, you can look to a third party billing company for assistance with the process. Third parties like MedEvolve are well-versed in all aspects of specialty practice billing, including coding, compliance and reimbursement. These experts help you accurately calculate the benefits each of your payers provide so you have accurate information on which to base your negotiation. What's more, using a third party eliminates potential mistakes that could cost you during the process.
Negotiate
Now it's time to review the language of the contract itself. Most have an evergreen clause that triggers an automatic renewal unless you or the payer propose changes within a certain time frame. Adhere to these terms and start your negotiations during the appropriate period.
It's best to meet with an insurance representative directly during the beginning of negotiations. Payers often try to delay proceedings, so set strict deadlines to avoid getting the runaround. Present your research during your first meeting, and be prepared to share your data with the payer. Reckenen Accountants and Consultants suggested taking things a step further by bringing two letters to your first meeting: one addressed to each of your patients; another addressed to the human resource departments of major employers. Each letter should explicitly state that you will no longer accept the insurer on the date your contract ends. Tell the representative that you will send these letters if you are unable to come to an agreement by the end of the negotiation period.
Afterwards, wait for the payer to make a decision. If an agreement is reached, discard the letters and continue with your revised contract. If not, mail the letters. The payer might make a move at this point and agree to negotiate, but if not, your business should focus its efforts on getting more patients from insurers you still accept.