Since doctors began taking the Hippocratic Oath, they have struggled with requiring payment for treatment of patients. For a doctor, it is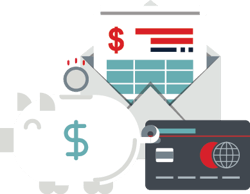 their duty to treat a patient and sometimes they may be too willing to dismiss a copay or balance due because they empathize with a patient's situation or maybe have a long-standing relationship. Collecting money that is owed is awkward for most business owners if a client does not immediately offer payment when it comes due. An unfortunate consequence of the increase in patient financial responsibility is that the practice of collecting on patient balances can turn you, your practice, and your staff into the enemy—the dreaded debt collector.
According to the U.S. Code of Federal Regulations, a practice must "make a reasonable effort to collect" on a patient bill before it can be considered a write-off.
What Defines a "Reasonable Effort to Collect?"
With respect to Medicare and Medicaid, "reasonable effort to collect" has been interpreted to mean that the provider sends three statements to the patient and if the patient does not respond, the account may be written off. Since third party billing rules can be difficult to decipher and differentiate, it's typically a best practice to use Medicare and Medicaid as the standard for all payers.
When it comes to commercial insurance, the contract the provider has with the insurance company usually requires the provider to collect co-pays and deductibles. Once those are collected, it is recommended the same three statements be sent and if payment is not received, the balance may be written off.
In their report, Best Practices for Resolution of Medical Accounts, HFMA included a workflow to illustrate their recommended Medical Account Resolution Process. "The medical account resolution process starts before a healthcare service is rendered and ends when a patient receives 100 percent financial assistance or pays the outstanding balance on the account." HFMA is working to make these practices standard across the industry.
Collecting on Commercial Insurance Copayments and Deductibles is Critical to Maintaining Compliance

According to an article by Carol Crews, CMPE, CPMA Director, Healthcare Consulting Services at The LBA Group, "In today's heavily regulated health care environment, the common practice of waiving copays and deductibles may now be considered illegal under the False Claims Act, the Anti-Kickback Statute, HIPAA regulations, and many state laws." She goes on to say that "penalties…can range from monetary fines, prison time, exclusion from
Federal healthcare programs, and termination from private insurer plans."
According to The Office of Inspector General (OIG), "Routine waiver of deductibles and copayments by charge-based providers, practitioners or suppliers is unlawful because it results in (1) false claims, (2) violations of the anti-kickback statute, and (3) excessive utilization of items and services paid for by Medicare." (Federal Register, Publication of OIG Special Fraud Alerts)." Essentially, a provider can waive a copay due to a patient's financial hardship, but it must be well-documented and cannot be a common practice.
Getting Creative with Patient Account Resolution
Practices need to make serious adjustments in their patient collection strategies to remain successful, and they should have a billing and collections policy in place that they adhere to. In an article in HFMAs Patient-friendly Billing eBulletin, Cheris Craig, chief administrative officer at Urology of Greater Atlanta (UGA) says, "Historically speaking, if patients didn't pay, nobody noticed. We sent statement after statement for years and years because no one had time to pursue it."
According to Ms. Craig, her practice was able to "cut billing costs by 80 percent and reduced bad debt" by implementing a new collection strategy which required patients to pay their balances in full up front or put a credit card on file to be charged a maximum of $250 per visit to help cover remaining balances. Many practices have adopted the model of requiring patients to provide a credit card to be placed on file if they are unable or unwilling to pay their balances in full at the time of service.
Some other ways that practices can help to ensure payment on their patient balances are:
Discuss patients' out-of-pocket expenses prior to treatment
Set up payment plans
Provide CareCredit® applications
Offer a variety of payment options
Lastly, consider alternative care plans that may be less costly
It's Time to Prevent Write-offs and Waivers
In today's environment, practices need to understand exactly what money is owed to them and who owes it. Even small balances, can quickly add up, so they should not be dismissed. You may want to consider redesigning your collection strategy and broadening your payment options to help your patients pay their balances with greater ease. Most patients want to be fiscally responsible and pay the amount they owe, but some simply are not able to pay their balances in full at the time of service.
The bottom line is, you want to ensure you are providing the best care possible and collecting the money that is owed to your practice, but make sure you don't put compliance at risk. If your staff is having trouble keeping track of all of this, you may want to consider outsourcing all or part of your billing to a reputable company that is accustomed to dealing with the ins and outs of insurance companies and regulations. Outsourcing will also take the burden of collecting away from you and your staff so you can provide a positive patient experience.