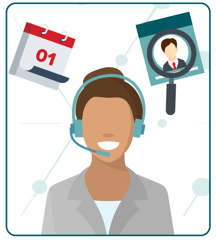 With a new year comes new insurance coverage for many patients. When resources and time are stretched thin, it's easy for some tasks to fly under the radar, like checking patient eligibility. However, to prevent delayed payments, each office should request insurance cards (and scan them) for any patient being seen for the first time in the new year. And, while you're at it, be sure to double check and update demographic information, such as addresses, phone numbers, etc..
Inefficient upfront benefit verification processes open practices up to costly risks. Providing care to patients without the proper coverage will turn reimbursement into a considerably uphill, if not impossible, climb.
Important for new and returning patients alike
Practices probably understand how critical it is to verify the insurance policies of new patients. However, the timing and frequency of doing so is less clear. It's often advised to run an eligibility check while going through the scheduling process - and then again right before the appointment (whether that's a day prior or in the hours before).
Not only does double-checking ensure all the specifics are covered, but simply having the conversation provides a valuable opportunity to connect with patients. At that point, before any care is given, staff can make sure they are on the same page and patients are sufficiently knowledgeable about their expected contributions.
This need for upfront verification also extends to existing patients. Practices cannot simply trust they or their patients will always have the most correct, up-to-date information on file. Be prepared to verify returning patients at the beginning of a calendar year and if the patient has not been seen in while. Life events such as a job change (or change in income) can happen often. Proactively checking eligibility helps protect the practice.
Ensure co-pay responsibilities are known
A wide-ranging effect of the Affordable Care Act is that a lot more patients became knowledgeable about their insurance plans and deductibles. However, patients still struggle with the language of medical benefits, which presents problems for practices. If a patient was not prepared to pay a co-payment, it is a breach of contract with insurers to waive it. In the event of an audit, if your practice is proven to sustain a pattern of waiving co-pays, a practice may come under serious scrutiny, resulting in fines or worse.
Don't let this happen to your practice, especially if the reason is simply because the office and the patient were not clear on personal contribution expectations. Insurance cards often list a co-pay sum, but they cannot be trusted as the single, ultimate authority on what patients actually owe.
The only way practices can avoid these situations entirely and ensure they have the most accurate information is by checking eligibility upfront. Speaking with patients ahead of time, before their co-pays are due at the visit, sets everybody up to meet their expectations.
Focus on the data and automation
In the end, checking eligibility means vetting all types of information fields. Data is the endgame, and the more details practices can gather, input and verify, the more effective and efficient their eligibility verification processes become.
Having the right software in place is overwhelmingly important for practices trying to formalize their upfront verification workflows. Your practice management solution should empower your staff with automated functions and robust capabilities that reduce time and effort spent on verification. Not only does such a solution allow practices to get ahead of the game regarding eligibility checks, but it also ensures staff is working from the most accurate and up-to-date information.
Relying on manual processes can make eligibility checks a challenge to carry out. The best option is to leverage features available in practice management (PM) software, like MedEvolve PM, which allows users to run batch eligibility checks, access real-time information and schedule checks to be run ahead of time. Automation enables staff members to remain flexible and responsive as responsibilities shift. Having robust software to process verification quickly and accurately will help your practice fully realize the benefits of upfront eligibility checks while making it as effortless as possible.
Do you need help with revenue cycle services? Contact us via email, web form or call (800) 964-5129. We can help with your billing and collections challenges.
Sources
https://www.medicalbillingstar.com/blog/patient-eligibility-verification-different-voices-across-the-spectrum/
https://www.experian.com/assets/healthcare/white-papers/white-paper-the-importance-of-prioritizing-eligibility-verification.pdf
https://www.pverify.com/the-importance-of-patient-eligibility-verification-to-the-revenue-cycle/
http://www.medevolve.com/wp-content/uploads/2015/03/MedEvolve_PM_41416.pdf