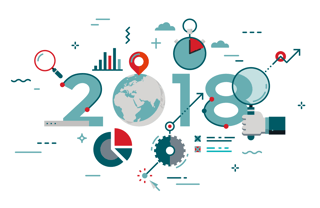 With technological innovations and digital advancements inevitable, it's important for healthcare professionals to stay up to date on the expected developments in 2018. After identifying major health and technology trends to keep an eye out for in 2018, leaders from the Healthcare Information and Management Systems Society (HIMSS) of North America highlighted a common theme for the new year: patients will value a deeper connection between providers, information and technology. Plus, providers will begin to rely more heavily on technology and digital health solutions for data collection, cyberattack protection and increased ease and efficiency in patient care.
Here are the trends and predictions to be aware of this year:
Focusing on user-friendly software
The focus on patient-centric services for improved user empowerment and engagement will remain strong in health technology this year. Consequently, there will likely be a slew of innovative technological developments to put patients at the center of the digital experience. Thus, providers should expect a shift toward more user-centered design elements in digital and mobile health platforms, which will create a more user-friendly experience for patients. As these platforms become increasingly easy to use, patients will become even more readily engaged with making healthcare decisions and following treatment plans.
Plus, enhancements in practice management software will help practices stay on top of the patient engagement efforts that will be necessary for attraction and retention rates in 2018. For example, there will be a significant new release of MedEvolve Practice Management this year with improvements to the user experience, automation and other enhanced capabilities.
Using technology to personalize healthcare
In addition to implementing user-centric software to improve patient engagement, personalized care will continue to be a vital part of the healthcare experience. Patients want more control when making healthcare decisions, which comes from increased access to and engagement with their medical information. This personalized healthcare experience creates opportunities for digital health solutions catered to the individual patient.
According to the Worldwide Health Industry 2018 Predictions report from the International Data Corporation, one element of this personalized healthcare will be patient-generated health data. The report predicted that by the end of 2020, patients will collect and share 25 percent of the data used in medical care. Wearable medical devices and other technological advancements will aid patients in recording, collecting and sharing their medical data with their healthcare providers. This will lead to more personal and connected health and wellness routines.
Increasing the exchange of medical information
Mari Greenberger, Director of Informatics at HIMSS North America, predicted "2018 will be the year of crystallizing interoperability approaches and trusted exchange frameworks." Hospitals and medical practices will find ways to increase efficiency and accuracy of patient care by improving their efforts to exchange medical information. In turn, this data sharing between several organizations will continue to decentralize the healthcare industry.
Adopting artificial intelligence solutions
While artificial intelligence has already begun to enter the medical world, healthcare facilities may begin to adopt AI solutions at a faster rate in 2018. The IDC report predicted that 20 percent of healthcare organizations will see 15 to 20 percent productivity gains from cognitive and artificial intelligence technology by 2020. AI-based enhancements to electronic health records technology will aid clinicians in taking faster, more efficient notes during appointments. And because AI systems can interpret data quickly, they can provide medical predictions and suggestions to aid clinicians in decision-making. There is also the possibility for AI technology to expand beyond clinical decision support and health management. With tools like predictive analysis and image recognition, AI systems could be valuable in diagnosing diseases and special health conditions.
Mark Michalski, executive director, Massachusetts General Hospital and Brigham and Women's Center for Clinical Data Science, told Computer Business Review that "2018 will be the year AI becomes real for medicine…[It] may truly transform the way providers work, and the way patients experience healthcare." Michalski expects to see new solutions for integrating and validating AI systems in 2018, which will lead to tangible results for healthcare professionals to use in diagnostics, population health, hospital operations and other clinical specialties.
Revamping security strategies
The healthcare industries biggest threats in 2017 will rollover into 2018: cyber attacks and severe weather. According to a recent survey conducted by Mimecast and HIMSS, nearly 80 percent of the surveyed information technology and security professionals experienced ransomware and/or malware issues in the past year. Unsurprisingly, they also identified cybersecurity as be a top initiative for healthcare providers this year. These serious risks, plus the increase in sharing data, creates a need for revised security strategies and advanced technology to protect patient information.
Healthcare providers, hospitals and medical offices should keep these tactics in mind when revamping their security strategies this year:
Use a layered approach to avoid any gaps or vulnerabilities in the systems.
Stay on top of industry best practices and standards.
Make sure all systems are constantly updated.
Be prepared to make continuous adjustments to cybersecurity approaches throughout the year.
Consider moving to a cloud or SaaS-based platform, if you are not already on one.
As new updates to security software are released, healthcare facilities should strongly consider implementing them as soon as possible.
Improving mobile health
As the use of mobile solutions continues to increase, so too will improvements, updates and advancements in these digital services. This includes mobile apps for monitoring health, telemedicine, new technologies for patient engagement and advancements in augmented and virtual reality services. Digital health will continue to bridge communication gaps and create more ways to gather and access medical information, with a 50 percent increase in digital mobile engagement expected by 2019, according to the IDC predictions report.
Further, telehealth will stay on trend in 2018. The Consumer Telehealth 2016 Benchmark Survey conducted by Teladoc and Becker's Hospital Review reported that 83 percent of respondents ranked telehealth as a high priority, and 76 percent of hospitals will offer consumer telehealth services by the end of this year. Thus, healthcare professionals should expect a continuation in the rise of telehealth solutions.
Embracing a data-oriented strategy
Rather than the previously adopted value-based care system, there will be a shift toward data-oriented strategies. With digitally-enhanced methods of collecting and analyzing data, healthcare professionals are now privy to new insights and information that can lead to more efficient and accurate patient care. Plus, with a new emphasis on patient-gathered information, data-oriented care can provide more accurate, individualized diagnosis and treatment. Solutions like MedEvolve Practice Analytics software makes it easy for medical offices and healthcare facilities to manage a data-oriented strategy and improve practice performance.
MedEvolve is committed to constantly updating these systems and services to keep up with regulatory requirements and technological advancements in the healthcare industry. If you are in need of technology or updated systems to stay abreast of changes and trends in the industry, contact MedEvolve via email, phone us at 1.800.964.5129 or fill out this form.
Sources: