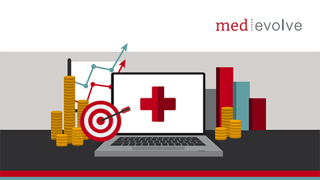 With a greater portion of healthcare costs falling on the shoulders of patients, physicians are less likely to see the types of revenue streams they previously relied on. Unfortunately, reimbursements for medical services are not expected to increase, and are becoming more and more challenging to attain.
In the past, practices focused on increasing revenue to ensure financial success. Today, the focus must shift to decreasing cost—and therefore increasing margin. Physician practices cannot only rely on providing excellent care, they must also be business savvy and fiscally minded.
No specialty practice wants to sacrifice patient care to increase its margin. We know physicians need to spend more time with patients and less time on administrative functions to sustain a healthy business. According to InstaMed's 2016 Trends in Healthcare Payments Seventh Annual Report, the average physician spends 21 percent of their day on non-clinical adminstrative tasks. Outsourcing some administrative functions, like billing and collections, can help reduce the administrative burden and is often more cost-effective than hiring additional staff.
Another major factor in running a successful practice is having healthy relationships with your payers and a good understanding of your payer contracts. Practices must constantly monitor their contractual variance within their practice management systems to make sure they are receiving accurate reimbursements. It may be necessary to renegotiate outdated contracts.
You should also compare your organization's numbers to others in your geographical area and specialty to confirm you are running a successful business. This will help you establish benchmarks so you know when your numbers are off and you can identify solutions to resolve any issues, or ways to replicate successes in the future.
In today's healthcare environment, specialty practices must make their financial health a top priority. Increasing margin will help your practice continue to thrive through the uncertainty.